"We are hearing too often from families and professionals about tragic deaths and disability associated with these disorders, and about the need for sufficient awareness in the community. By contributing to NMSIS or supporting us as a member, you help us provide continued education through this website, the hotline, database and educational materials."
-- The NMSIS Office
Contributions
Help Us Continue Helping You!
Do you want to join NMSIS in its campaign to prevent NMS tragedies through better understanding, information and awareness?
Your donation will help NMSIS serve the entire NMS community.
NMSIS is a non-profit organization under IRS Code 501(c)(3). Its hotline services are provided to medical professionals free of charge. NMSIS operates solely on voluntary contributions. All contributions are tax-deductible.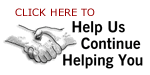 Please click on the helping hands above to make a donation. In order to provide you with a secure server for your transaction, you will be directed to the Malignant Hyperthermia Association of the United States (MHAUS) eCommerce website.
MHAUS founded NMSIS in 1997 due to its mission to become a world-wide source for clinical expertise in heat-related disorders. MHAUS continues to provide NMSIS with its resources and expertise.